Welcome to Dr. Khushali Homoeopathic Clinic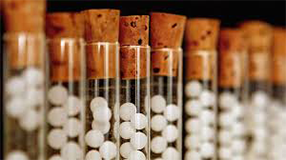 Hailing from an impressive lineage of doctors, Dr. Khushali P Gambhir [MD(Hom)] has been a practicing homeopathic physician in Chennai for more than 20 years. Apart from studying menstrual disorders for her post-graduation, she is also a globally acclaimed expert in treating paediatric, gynaecologic, andrologic, endocrine, orthopaedic disorders, psychological disorders and undiagnosed rare conditions.
Her due diligence and unwavering commitment towards every patient contribute to her keen sense of understanding an ailment and its evolution, thereby allowing her to effectively use homeopathic principles to cure patients and provide necessary preventive measures.
Dr. Khushali's Homoeopathic clinic first opened its doors in 1996. In the last 23 years, the team has grown to accommodate an able set of doctors and administrative staff. The Clinic has created opportunities for women from all types of educational backgrounds and walks of life.